ALEEGO wins Entrepreneurial Success Story of the year!
17 February 2020
Every year, the Franco-Czech Chamber of Commerce rewards an entrepreneur or a business less than five years old, for its creativity, originality, dynamism and potential for development and growth.
This year the trophy was awarded to ALEEGO, the drone (UAV) service company for its original business journey, commitment and having social responsibility as a core element of its business model.
Coming in close second was Hideandseek with Aranka, a small tailor-made and design ecological mobile house.
Entrepreneurial Success Story of the year, and what a year!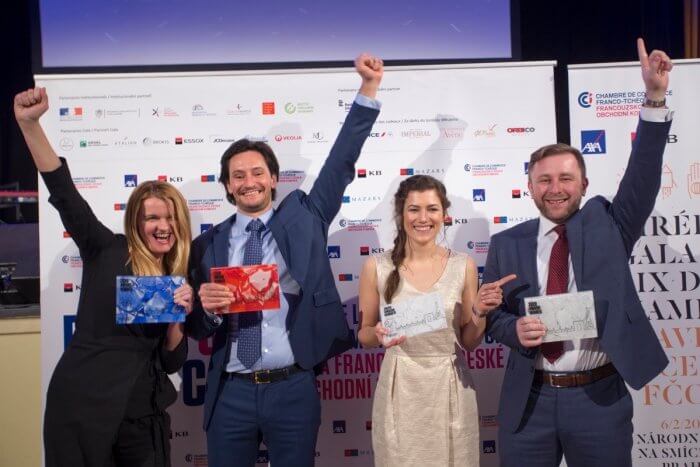 In collaboration with the European Space Agency (ESA), ALEEGO launched a platform where customers define and book their UAV missions. Companies are matched with handpicked qualified UAV pilots answering all the requirements in terms of insurance coverage, equipment, licenses or industry expertise.
Data collected during the flight are post-processed, analysed and converted into a qualitative report. This comprehensive report is than submitted to our customers as a final product they can easily understand and use to take the appropriate actions.
A world's first – 2019 also saw the successful implementation of blockchain technology to secure the transfer and storage of sensitive data as well as the flight approval received by the Civil Aviation Authorities (CAA).
The ALEEGO team sends its heartiest congratulations to all winners across the four categories! And we look forward to seeing all of you once again at the next year's – Prix de la Chambre de commerce franco-tchèque.
Check out the full list of the Prize of the Franco-Czech Chamber of Commerce winners:
Corporate social responsibility: Zátiší Group
Excellence made in France: Médecins Sans Frontières
And the Prix coup de cœur: Markéta Borecká – Forewear
We also want to thank the CCFT and the Gala partners AXA Czech republic, Komerční banka & Mazars Česká republika for a great event!